Big Hog Coming Up, Pictures rather rubbish but you'll get the drift.
Blue & Silver Foil Beads (the ones that Tinks liked)
My finished Necklace witht the Cool Britannia Beads & that Viking Knit By Gillian, How much should I price it at, I have no idea?
the other Blue and Silver Foil Beaded Necklace with Chain Maille, the chain on the right hand side of the pic is wonkie as i forgot to straighten it for this photo shoot!!!! blimey over and out.
And by the way, I'm really struggling to price my work....... advice welcome
[url]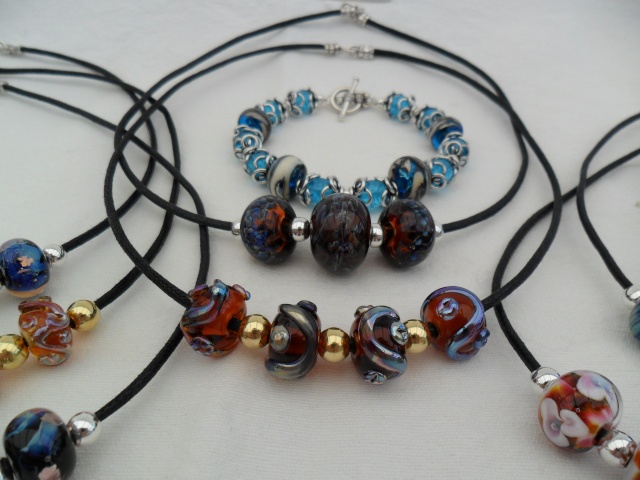 [url=https://servimg.com/image_preview.php?i=68&u=16906002]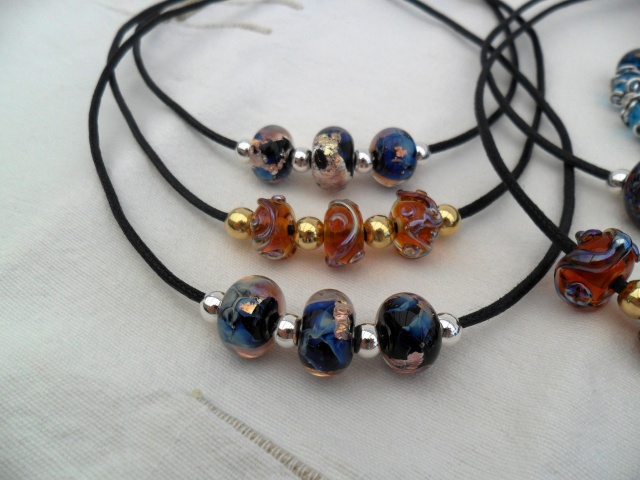 [/url[url=https://servimg.com/image_preview.php?i=69&u=16906002]
[/url

Batty

Not of this world





Posts

: 584


Join date

: 2011-09-14



Wow Debs they are just gorgeous, i just love the beautiful flower beads. As with pricing yikes always a hard one I know I under price my jewellery. the Flower beads I would happily pay £10 - £15 for a set of them, I don't know if that helps much.
All beauts Batty

Dont know if this helps but the lampworkers who have been around longer always say minimum of £3 for a bead, these clearly took longer than the average bead with expensive inclusions etc. The leather ones for example, you would be underselling at any less than £15 - 18. I know sometimes we think we arent as worthy and knock the price down - Im just as guilty - but you arent going to be doing yourself any favours, and these beads arw of a high enough standard that people may actually wonder why they are so cheap. Hope thats more helpful than scary!
Wow Batty, they're all absolutely stunning, charge a lot I say!!!
Lisa x
I agree with Lisa, unique designs like this are worth a lot.

Those blue & silver foil beads made me drool over my keyboard.
I'm with the others on this Debs. Those are very good quality beads love, and from what I can see on this monitor your jewellery has been finished to a very high standard too.
If theyre' sterling findings I reckon £15 - £20 for the leather chokers, and a huge amount for the blue foil necklace which I want VERY much. (Let me know if it doesn't sell) If its not sterling I still think £35 or more for it. The jubilee necklace....I LOVE what you've done with the ends of the knitting. Bloody brilliant. I know it's not sterling but it's got to be worth £35+. Those beads are incredible. They're unique. One of a kind. Designer. Irreplaceable. That's worth spending money on, think of it like that

Start high. If nothing sells but people look very interested then maybe near the end of the day you could consider a drop in price but I think the one's you have been given here are minimum anyway.
Blimey the Forum's letting me in.......
Just to say another thank you for all your support ladies it really does mean the world to me
Your advise is invaluable
Love and Light to You all
Debz


Batty

Not of this world





Posts

: 584


Join date

: 2011-09-14



Pricing is the most difficult part I think, in my very limited experience I have found that there are people out there willing to pay for unique pieces with a good standard of finish - don't under estimate or sell yourself cheap - they are all lovely and good luck.

I also think you need to 'educate' your potential customers - they need to know how much work etc goes into each bead - information cards, inspiration thoughts behind a statement piece - people love a story ...........
Utterly delicious ... all of them. I haven't got a clue about pricing, but I wish you the very best and you certainly deserve to do well with them.

ToBeadOrNotToBead

Not of this world





Posts

: 552


Join date

: 2011-09-26


Location

: London and Sydney



Thank you for all your help and encourage means, I'm sure I said this, but it really means the world to me as for all my antics, I'm not a confident person.
-x-

Batty

Not of this world





Posts

: 584


Join date

: 2011-09-14





Similar topics
---
Permissions in this forum:
You
cannot
reply to topics in this forum